Questions violating Chegg Honor Code
My question/solution has been flagged as Honor Code Violation, what should I do?
As per our quality team, you have violated Chegg's honor code in your recent solution/question. We suggest you to kindly go through our recent
authoring guidelines
and training programs on the
Chegg learning platform
.


You will be glad to know that now you can check the reason for solution/question deletion. Kindly check the respective solution/question in the My Solution section of the authoring dashboard.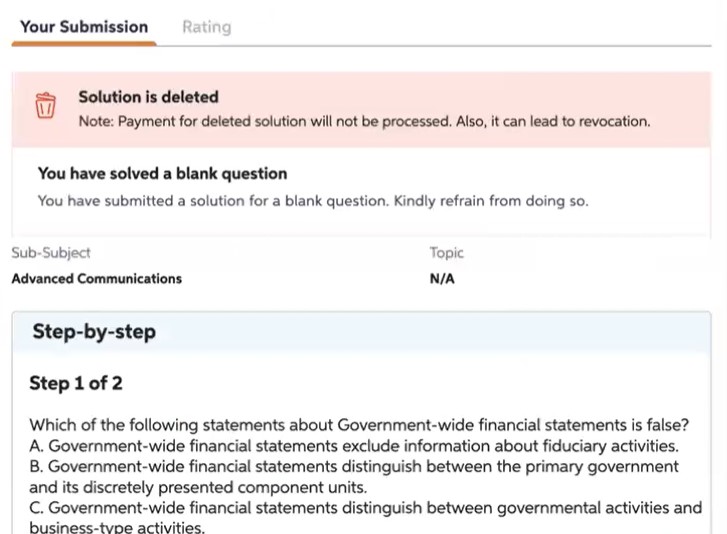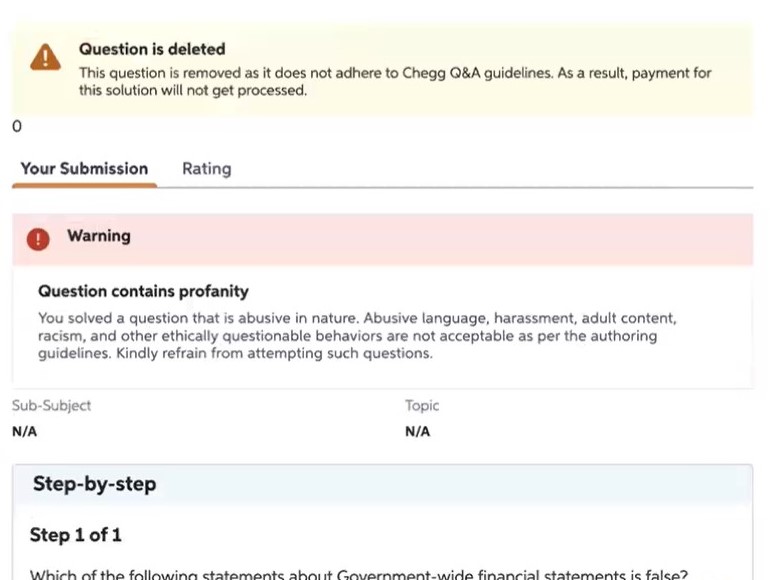 Please make sure you submit a correct and complete solution and follow the authoring guidelines. C
ontinuous flagging of honor code violation questions/solutions are grounds for the revocation of authoring privileges.
What are Questions violating Chegg Honor Code?
Question is containing external link, can I answer it?
Questions containing external link are considered as Questions violating Chegg Honor Code.
Such questions should NEVER be solved and should always be skipped
as
"This question violates authoring guidelines: with the sub-option, Copyright/External URL".
Please check out this video below:
In addition to the above, all questions which contain any of the following phrases/types of questions should be SKIPPED as
"This question violates authoring guidelines:" with the applicable sub-options "Exam/Test/Quiz, Copyright/External URL, Requires Lab work, Spam or Points/Marks/Grades"
:
-
'Exam' or 'Examinations'
-Question with third party link, asking to visit a third-party website!
- 'Examinations Institute'
- 'Copyrighted' or 'Copyright protected document' or any other copyrighted work etc.
Also, if you come across any question which contains threatening, violent or harassing messages, please skip them as
"This question violates authoring guidelines: with the sub-option, Spam".
Chegg reserves the right to NOT PAY for answers that violate Chegg Honor Code.
Can I give external link if asked in the question for reference?
Do not provide any external link in the answer as it will be in violation of Chegg Honor Code.
However if you think that question can be answered without providing any external link, then please feel free to answer such questions else if the question cannot be answered without providing the link, then you can skip the question as abusive.
I Skipped one question into "This question violates authoring guidelines:" by mistake, what should I do? Will my account be revoked?
But please make sure that you are very careful from next time while skipping questions on Chegg Q&A Board. If you skip questions which are not violating Chegg Honor Code under the reason
"This question violates authoring guidelines:"
often, your account will be revoked.
Video Gallery- Resolve your queries instantly
Related Articles

Teachable - Chegg's new learning platform

Now learn with Teachable Get an in-depth knowledge of the updated authoring guidelines on our new learning platform loaded with engaging video tutorials, interesting examples and exciting quizzes. This will help you understand the guidelines better ...

Deleted Question on Chegg Q&A

The content you are looking for has been removed as it violated Chegg's honor code. Here are a few reasons why the question may have been removed: • The question may have belonged to a current Exam, Test or Quiz thereby indicating academic ...

Frequently Asked questions

FAQs (Frequent Ask Questions) 1) I'm not able to access my account as it is revoked, please reinstate! Once revoked, the account cannot be reinstated in the same or any other subject. Payments are processed by the 15th of every month for the valid ...

Referral Code

Can I refer my friends to Chegg Q&A? Yes, off course! You are welcome to refer your friends to become an expert with us. They can help the students while simultaneously increase their subject knowledge and earnings. How can I refer my friends? What ...

Types of Questions on Chegg Q&A

On the Chegg Q&A platform, students ask mostly 5 types of questions as mentioned here in the video: Multiple choice questions In Multiple Choice Questions (MCQs), it is important to: 1. Identify the correct solution along with step-by-step reasoning ...