How to solve questions on Chegg Q&A
Steps to solve questions on Chegg Q&A
Please check out the video:
Important: If you're having trouble with the link, please copy and paste the below link into your browser
http://expert.chegg.com
· Login ID: XXX@gmail.com (username is email id only)
· Password: Shared on mail (After successful login, please change your password for security reasons)

· In case of a password mismatch, click on "forget password" option. You will shortly receive an email from Chegg Password Recovery (noreply@chegg.com) containing a password reset link. Please wait for some time for the email and don't forget to check the spam folder. Follow the instructions received on your registered email ID to reset your password.

Click on "Start authoring" after successful log-in to author questions on the Chegg Q&A authoring dashboard.


Note: You get 10 minutes to decide whether you want to solve a question or skip to the next question, and you get 120 minutes ( 2 hours) to solve it.
I am not able to click on password reset button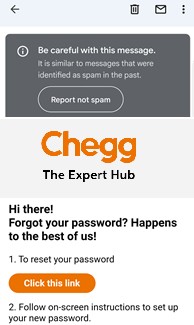 You are not able to click on the respective link as the email service provider (Gmail, Yahoo, hotmail etc.) is blocking the link due to the email being in the spam folder.
Request you to click on "
Report not as spam
" on the delivered mail and retry again to reset the password from
expert.chegg.com
. In case of the wrong password, password reset, or login issue, we request you to either manually write
expert.chegg.com
or copy-paste the link in the browser and go to the site. Then, click on forgot password to reset the same (
check the spam folder of your mailbox too
) and log in.
I
am not able to complete my solutions within allotted time of two hours, please help!
Don't worry! We have now added bonus authoring time of 1hr in each solution. We would recommend you to carefully choose questions which you can solve within the three-hour time limit. However, if you are unable to submit your solution within the allotted time, the question will automatically be skipped.
You may find some questions which can be solved well within one hour while others may take a bit more time.
Note:

Please attempt only those questions that you will confidently be able to solve within two hours'.
In some questions, students have posted many questions/many sub parts; do I have to solve all the questions? Also, will i get paid separately for each question?
As per the Chegg Q&A Guidelines you must solve all sub-parts of a
multiple sub-part question
or the part of the question preferred by the student.
In case of
multiple unrelated/different questions,
the first question
should be solved. This will not only provide the student with a more helpful solution but also help you get good feedback!

Both multiple sub-part question and multiple questions, are counted as one , not separate, and the payment for the same is done accordingly. To learn more
please click on this
link
.
I received a question from a different subject; can I solve the question if I know the solution?
Feel free to solve questions from different subjects only if you are 100% sure about the solution. Also, make sure you provide a step-by-step and detailed explanation.

Video Gallery- Resolve your queries instantly
Related Articles

Types of Questions on Chegg Q&A

On the Chegg Q&A platform, students ask mostly 5 types of questions as mentioned here in the video: Multiple choice questions In Multiple Choice Questions (MCQs), it is important to: 1. Identify the correct solution along with step-by-step reasoning ...

New Feature- 'Safe to Solve' on Chegg Q&A!

Introducing the "Safe to Solve" tag on the Chegg Q&A dashboard. Questions labeled as "Safe to Solve" on the "Question Deciding Page" are those questions that have been reviewed and marked acceptable to be solved, as they are compliant with the Q&A ...

Best Time to Login on Chegg Q&A authoring dashboard

Best time to login and solve questions On Chegg Q&A authoring dashboard, students post most of their questions between 1M and 8AM everyday. Therefore, to solve more questions or from your favorite topics, we recommend you to login during this time so ...

Questions violating Chegg Honor Code

My question/solution has been flagged as Honor Code Violation, what should I do? As per our quality team, you have violated Chegg's honor code in your recent solution/question. We suggest you to kindly go through our recent authoring guidelines and ...

Deleted Question on Chegg Q&A

The content you are looking for has been removed as it violated Chegg's honor code. Here are a few reasons why the question may have been removed: • The question may have belonged to a current Exam, Test or Quiz thereby indicating academic ...