CEA (aka Sia) Chegg Expert Assistant
CEA- Chegg Expert Assistant

Check out the video to learn more about CEA:


Got queries?
Now interact with Cea (a.k.a Sia), our
C
hegg
E
xpert
A
ssistant
, and get solutions to your queries,
24*7*365
.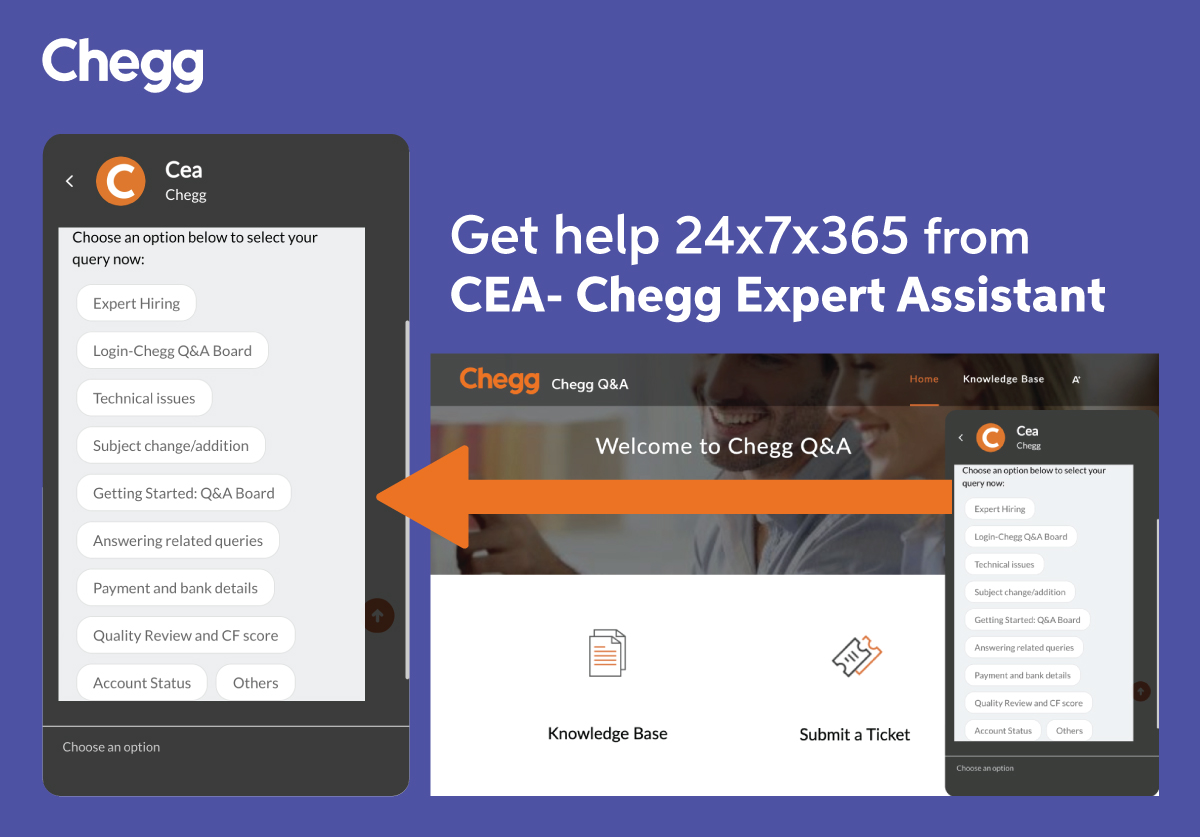 Video Gallery- Resolve your queries instantly
Related Articles

Chegg Expert Reviewer (ER) - For limited experts only

Chegg brings you a new & an amazing earning opportunity – Expert Reviewer Opportunity. As an Expert Reviewer (ER), you will be reviewing the solutions submitted by other experts on Chegg Q&A board as per review guidelines. The reviewing opportunity ...

Chegg Referral Code: How to Refer Your Friend to become a Chegg Expert.

Can I refer my friends to join Chegg Q&A? Yes, of course! You are welcome to refer your friends to become an expert with us. They can help the students while simultaneously their subject knowledge and earnings. How can I refer my friends? What is my ...

Chegg Expert Platform 2.0: A More Convenient and Efficient Way to solve questions

Chegg Expert Platform 2.0 We've built a new experience for better quality and convenience for you. Please submit your feedback or report a bug for expert platform 2.0 here. Check out this video to know more about Expert platform 2.0 Features of ...

Chegg Expert Platform 2.0: Get an Additional 1 Hour of Authoring Time

Exciting News! We are glad to announce the launch of the 'Additional Authoring time' feature on Chegg Q&A. This feature will give you the option to extend the authoring time by 1 hour from the current stipulated time of 2 hours. A pop-up to add 30 ...

Automated Solutions on Chegg Q&A!

We are super excited to announce the release of our newest feature on Expert Platform 2.0 – Automated Solutions. With this feature, you will be able to reduce your authoring time significantly. Curious to know, how it works? For some questions, our ...